Designer Gifts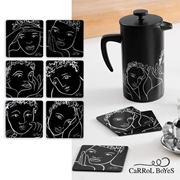 BNMGCB2761
*Stock due Mid February 2023
Carol Boyes Coaster Set Of 6-Sketchbook Black
R700,00
(Incl.Vat)
R 608.70
(Excl.Vat)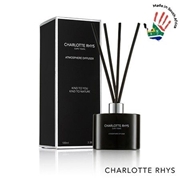 BNMGCR2660
*While stock lasts

Infuse your surroundings with a beautiful fragrance month after month, simply invert the reeds to refresh the scent. 100 ml. Available in a range of irresistible fragrances:

No.17:Fresh With Woody Depth: Clean, fresh and zesty this is a truly delightful fragrance. The top notes dance with Yuzu, Bergamot, Lemon and Tarragon, while Lily of the Valley, Nutmeg, Water Lily and Reseda perfume the heart. Cedar wood, Sandalwood, Vetiver and Musk give the base its depth.

Vanilla Cream: Sweet and Tantalising: Delicious Tropical aromas of exotic blooms and fruits, this is a warm and heady fragrance. Vanilla, Jasmine, Heliotrope and Ylang-ylang blossom in the top notes, while Lily of the Valley, Raspberry and Coconut burst in the heart. Peach, Musk, Praline and Orange Blossom make a satisfying base.

Bergamot and Lime: Zesty and Fresh: A zesty citrus fragrance with a mouth-watering combination of freshly squeezed Lemon and Lime, infused with Indian Ginger root, leading to further citrus notes of Orange, Lemongrass and Mandarin, Bergamot and Moss.

St Tomas:: An Aquatic Splash: Light and crisp, with rich and refined undertones, this is a fresh and invigorating fragrance. The top notes sing with Mint, Birch Leaf, Grapefruit and Green Apple. Geranium, Lavender, Tarragon and Aquatic Accord fill the heart, whilst Vetiver, Patchouli and Moss build the base.


R399,00
(Incl.Vat)
R 346.96
(Excl.Vat)